BE A VENDOR AT THE SO-CAL CYCLE SWAP MEET AND TURN THOSE OLD PARTS INTO CASH!
Whether you want to clear out the garage or you are a professional shop or manufacturer, anyone selling cycle related parts, services, or accessories can be a vendor at the So-Cal Cycle Swap Meet.
RESERVE YOUR VENDOR SPACE TODAY!
Call us, mail us or reserve it online. Look here for more info
SHOW UP THE DAY OF THE EVENT AND GET YOUR VENDOR SPACE!
Just show up the morning of the Swap Meet, get in the Non-Reserved Vendor
line starting on Faculty Ave., and get a space first come first served. We suggest
being in line early and CASH only at this Gate!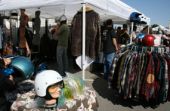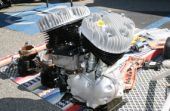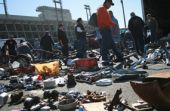 ALL VENDORS
Cycle related parts, services, and accessories only! Spaces are 20'wide by 16' deep and only one vehicle is allowed per purchased space, all trailers count as at least one vehicle. No parts drop-off, your vehicle must park in your space. All reserved spaces are available first come first served. All employees, helpers, friends, etc must enter with the vehicle and admission pass. We Swap Rain or Shine! Absolutely no refunds! No food, drinks, weapons, or animals are to be displayed, sold, or given away at any time. All Vendors must complete and sign a "Sales Tax / Sellers Permit Information Form" before entering the event, NO EXECPTIONS.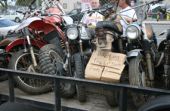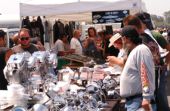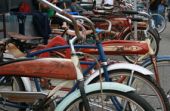 RESERVE YOUR VENDOR SPACE
Reserving your Vendor space is easy! You can reserve online anytime here:


Print mail in registration form
You may contact us Tues thru Fri 9am to 5pm 800-762-9785
We accept Visa, MC, AMEX, Disc, Check, Money order, and Cash
All reservations must be completed by Wed 5pm before the event!
PRICES AND GENERAL INFORMATION
RESERVED VENDORS
$50 per space. Gates open 5:30am you must occupy your Reserved space no later than 6:30am
NON-RESERVED VENDORS $60 per space. Gates open 7am
Ask about being a Premium Reserved Vendor for just $45/ space